Fire Barriers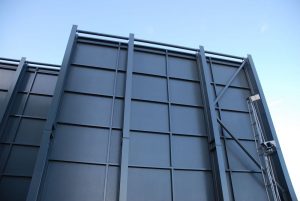 During a major fire large compartment, walls or enclosures may be subjected to extreme conditions and impact damage due to falling debris. This often leads to failure and, in some cases, total collapse. In an extreme fire, it is vital both materials and construction are capable of sustaining their design function.
When subjected to these extreme conditions, Invicta's Durasteel systems achieve a fire rating of 240 minutes and, together with their ability to withstand impact, provide the strength to protect in the harshest of fires.
This was clearly illustrated when fire broke out at the Bass Charrington Runcorn Brewery. It rapidly spread through the roof insulation, devastating everything in its path. A Durasteel fire barrier stopped the fire from spreading to the bottling plant, saving buildings, equipment and plant valued at £10 million and enabling production to continue on a limited scale. The fire barrier acted as an external wall during the reconstruction of the fire damaged site, withstanding all the elements.
---
FIRE BARRIER FEATURES
A Durasteel fire barrier stopped the fire from spreading to the (Bass Charrington Runcorn Brewery) bottling plant, saving buildings, equipment and plant worth £10m
4-hour fire resistant
Impact resistant
Moisture resistant
Vibration resistant
Lightweight – no foundations required
Saves space – without compromising structural strength & integrity
Demountable / remountable
Maintenance-free
Suitable for internal and external locations
Can be prefabricated offsite
Purpose-built to meet individual requirements
---

---
FIRE BARRIER CONSTRUCTION
Durasteel partitions provide vertical fire barriers to meet the requirements of BS 476: Part 22: 1987.
The partition and barrier systems combine superior levels of fire resistance and high surface impact resistance.
They will withstand the wear and tear of industrial and commercial environments and resist the forces of high pressure hose streams encountered during fire-fighting.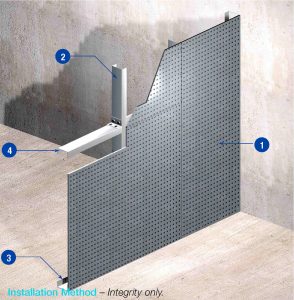 These outstanding characteristics provide a durable and fire safe method for the construction of vertical barrier systems to maintain compartmentation in industrial environments.
When designing the Durasteel framing system, consideration must be made for expansion, deflection, wind loading and load bearing requirements.
The constructions have been tested to both fire and impact resistance in accordance with BS 476: Part 22: 1987 and similar international standards with the construction subjected to impact of 3000Nm both prior and after the fire test.
For more information about fire protection barriers, get in touch with us – we'd be happy to help.