Plenum Ceilings & Ceiling Bulkheads
Durasteel ceilings provide horizontal barriers against fire and are tested and approved in accordance with the relevant criteria of BS 476: Parts 21: 1987 and 22: 1987.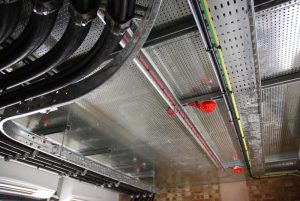 Durasteel ceiling systems provide horizontal fire rated barriers which are resistant to fire from above or below. Their high strength permits light loads such as maintenance foot traffic and loads up to 5kN/m². Systems are available up to 15kN/m².
The system design will depend on the performance requirements but typically comprises Durasteel boards secured to a framework of steel tees, angles or channels.
The systems are highly resistant to impact and provide excellent resistance to high pressure hose streams during fire. They can be used in any situation where a horizontal barrier is required.
TECHNICAL DATA
Durasteel, 9.5mm thick
Steel framing, usually comprising of 80mm x 60mm x 3mmthick channels located at 1200mm centres or at every board to board joint. This may vary dependent on the size and performance requirements of the system
Perimeter steel channels
Transverse framing members comprising of steel channel 80mm x 60mm x 3mm thick located at every board to board joint
Mineral wool, thickness and density in accordance with fire resistance performance requirements
The system is ideal as a dividing barrier between building services and corridors, or for the formation of smoke plenums.