Fireproof Vaults
Durasteel fireproof media storage vaults provide the ultimate protection for irreplaceable documents, media and artifacts and have been tested to extremes. In addition to providing 4 hour fire protection, they are also impact and moisture resistant, withstand vibration, and can be designed to be load bearing and strong enough to be walked on if fire resistant floors are a requirement.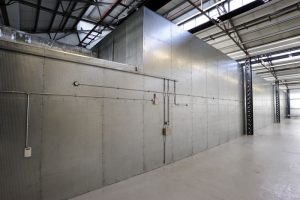 Invicta Durasteel custom design vaults for your specific storage requirements. Whether you are storing records, media tapes, data tapes, art or fine wines, you will have the confidence of 4 hour fire resistance and the most advanced protection within the industry.
Vital information stored on digital media or magnetic tapes requires exceptional fire protection due to their fragile nature. With an Invicta Durasteel Vault, you have guaranteed protection of your data.
Our media vaults are built to the highest standards and are specially designed to protect the data stored within them from the heat produced in a fire situation. With the use of Durasteel tested walls and barriers, we are able to offer a range of vaults specific to your needs. Invicta Durasteel manage the entire installation process of your vault from initial survey and construction to the integration of temperature controlled systems, gas suppression and mobile shelving systems to maximise the use of your storage space.
Recent World events have caused many architects, risk managers and board directors to re-evaluate the protection of their vital records and have chosen an Invicta Durasteel vault to ensure high integrity protection of these.
As such, we are the market leaders within the archival record, data and media sectors and have experience in installing vaults throughout the UK, Europe and the USA.
---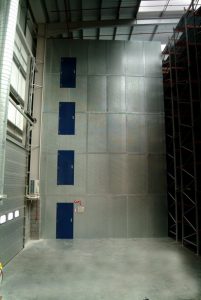 FEATURES
4 hour fire rating
Seismic proof
Blast resistant
Impact resistant
Environmentally controlled
No foundations required
Easily extended
Moisture resistant
Maintenance free
Each system is tested up to 240-minute fire resistance and can:
Work alongside industrial shelving and racking
Incorporate Mobile storage units – Upon completion, all 4 levels of this vault will be accessible from racking
Be included in or contain mezzanine floors