4 Hour Fire Rated Ductwork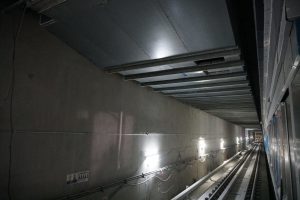 Durasteel 4 hour fire rated ductwork is a tested and certified high performance ventilation system that can be constructed to various sizes in 4, 3, 2 and 1-sided configurations and in both horizontal and vertical orientations, offering total flexibility.
The systems are lightweight and space-spacing, and offer up to 4 hours fire rating in both directions (Type A and Type B) in accordance with BS476: Part 24, to provide natural ventilation or mechanically forced ventilation, including hot smoke extraction in the event of a fire.
As a completely dry installation consisting of angle framework with 9.5mm Durasteel sheets fixed to the outside,  the systems can be re-worked on site to accommodate difficult site conditions and offer unique flexibility that other prefabricated duct systems cannot. The systems are designed bespoke in order to achieve the required cross-sectional area of airflow at the specified pressure and can accommodate foot traffic inside to allow for maintenance access.