Blast Doors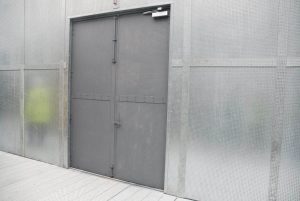 Invicta Durasteel can supply and install a comprehensive range of high performance steel 2 hour fire doors and 4 hour fire doors for commercial and industrial applications.
The DD range of high performance steel doors is unique. The manufacturing process, along with the design of the products, offers flexibility in configurations and performance. Each doorset can be purpose built to the client's exact specification, enabling virtually any shape or size to be created to meet the project requirements.
The range covers single and multiple leaf constructions for internal and external use and offers some of the highest fire and security ratings in the industry.
Both the 120 and 240 DD ranges of doorsets can be supplied as an integral part of the Durasteel fire protection system or as an individual item suitable for fixing into timber or steel stud partitions and brick or blockwork apertures.
These products have been designed with quality and performance in mind. The high impact resistance and durability of the Durasteel sheet means that, once installed, they are virtually maintenance free.