What is Durasteel
DISCOVER THE BENEFITS OF DURASTEEL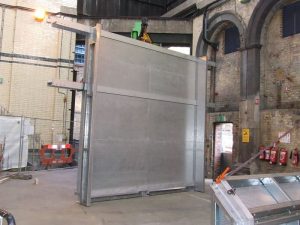 Durasteel is a composite panel fire protection board, comprised of a fibre reinforced cement core mechanically bonded to punched steel sheets on both outer surfaces.
It is both highly impact and moisture resistant, and is classed as 'noncombustible' to BS 476: Part 4: 1970 and to Clause 10 of EN 13501-1: 2002.
Our systems have been developed and supported through rigorous testing for use in barriers, door and ceiling applications, with a wide range of specifications available.
Combining lightness, strength, impact, blast resistance and durability with exceptional fire resistance, Durasteel systems remain unaffected by firefighters' hoses, leaving them capable of performing their original function even during a fire.
The systems have been used successfully across the industry for many years, including rail and metro projects as well as military developments and commercial, pharmaceutical and petrochemical facilities.
Additionally, Durasteel systems have been designed and developed to ensure effective use in blast resistant constructions in a wide range of industrial applications, including power generation and anti-terrorist installations.
THE FEATURES OF DURASTEEL INCLUDE:
Four Hour Fire Resistant
Impact Resistant
Moisture Resistant
Lightweight – No foundations required
Space-Saving, with excellent Structural Strength & Integrity
Demountable / Remountable
Maintenance Free
Suitable for Internal and External Locations
Can be Prefabricated Offsite
Purpose Built to meet Individual Requirements
Vibration Resistance
To learn more about the benefits of Durasteel systems, please get in touch with us – we'd be happy to help.