Blast Rated Ductwork & Baffles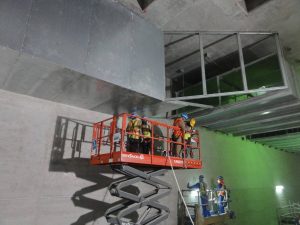 Durasteel blast rated ducts are an ideal, lightweight solution to provide fire and blast protected ventilation to substations and other high-risk areas, offering the required cross section of air whilst maintaining structural integrity, stability and ventilation requirements in the event of a fire or blast occurring.
Blast rated up to 34kN/m², the 4 hour fire rated duct systems are tested and internationally certified in 4, 3, 2 and 1-sided configurations and for both horizontal and vertical orientations, providing complete flexibility to traverse around tricky site conditions and congested areas.
The 9.5mm Durasteel board and steel angle framework assembly nature of the system also allows for any design changes to be easily and quickly made on-site should site conditions require.
Durasteel blast rated ducts are approved by UK Power Networks (UKPN).