Application
Substation Ceiling & Ventilation
Main Contractor
Sir Robert McAlpine
Sir Robert McAlpine is an engineering and construction company with a 150 year legacy. Having found success with the development of concrete in the 19th century, McAlpine are best known today for their large scale construction and engineering projects.
McAlpine are most famous for their work in the power generation, utilities and defence industries. However, other notable McAlpine buildings include the Millennium Dome, ExCeL centre, the Eden Project and the Olympic Stadium.
The Challenge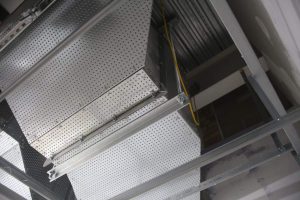 The subcontractor approached us to work in tandem with other trades on a new construction site, accompanying a renovation project on the historic London Fruit & Wool Exchange.
We were commissioned to fit out a new UKPN substation room in the basement area of the build. This would include work to install a natural ventilation system connecting to the exterior louver façade, providing cooling to the transformers in the two rooms.
We were also asked to provide insulated Durasteel UKPN-specification ceilings for installation to the substation soffits, thereby upgrading the substation area to 4-hour fire and 34kN/m² blast protection standards.
The Constraints
As we were taking part in a new build construction, we would be required to coordinate our designs for approval. Once the design was approved, the installation process would require close coordination with other trades on the site.
The Solution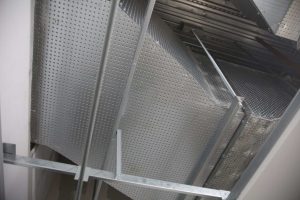 Invicta both designed and supplied the Durasteel ductwork system, which was fabricated off-site and delivered in pre-welded modules. In order to limit the cutting required on-site, Durasteel sheets were guillotined to the required sizes and shapes off-site.
The duct modules were sheeted on-site, and then lifted into position using Genie lifts. To carry the load of the ducts, trapeze supports were required, which were positioned at 1.5m centres. The ducts were designed with a cross-sectional area of 0.75m² to allow free air flow, a crucial factor in UKPN substation specifications.
A 5 x 5 metre Durasteel insulated ceiling system was installed into each substation room; this consisted of 150mm back-to-back channels at 1200mm centres, with Durasteel fillet strips on both sides of the channel framework.
The channel void was filled with three layers of 140kg/m³ mineral wool to provide insulation. The underside of the channel framework was then sheeted with Durasteel, and fixed at 200mm centres. In addition, all of the abutments to structures were sealed using 4-hour fire rated silicon sealant.
The Result
The project was successfully installed in just six weeks by four Invicta installation engineers. The installation was subsequently inspected and fully approved by UKPN, and received a certificate of conformity.